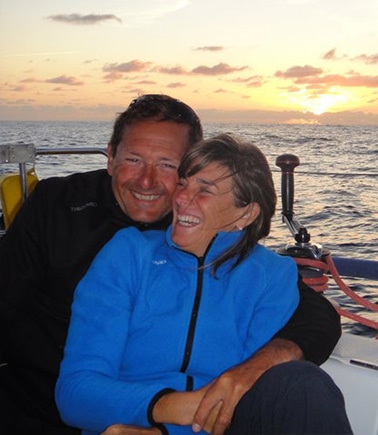 Mercedes
Born in Argentina in 1971 where she lived and sailed until 2001.
Arrived in Barcelona in 2002, then in France in 2004.
Speaks Spanish, English, French and Portuguese.
Studied textile design in Argentina.
Until 2020 engineer and garment designer at Decathlon.
Likes to prepare exquisite meals incorporating recipes ans spices from trips made, look for shells at the beach which will use on paintings that decorate the boat…
Richard
Born in France in 1956
Speak French and Spanish
Retired aeronautical engineer
Sailing since the age of 10 without interruption
Has practiced rugby for 18 years
Private pilot, he loves the feeling of freedom that the sea and the sky give him
Also love true human relationships, no pretense
ABOUT US
Bonjour, hello, hola, bom día !
Mercedes & Richard, we sail from a very young age, one on the Rio de la Plata in Buenos Aires and the other in the Bay of Biscay in the Atlantic.
We met at the Spi Ouest France in Trinité sur Mer in 2009, one, a crew member looking for a boarding, the other looking for a crew member. Since then we have been racing together non-stop. This complicity led us to marriage in 2016.
From this moment we have developed our new life plan. This is how we sold our regatta sailboat to replace it in February 2018, with a superb cruising boat. We then took up residence on board on the Bassin d'Arcachon, which allowed us to familiarize ourselves with MR Beelzebuth and to perfect its development.
Our dream is to go on an adventure through the wind, the sea, meetings and heavenly places that we can discover and share around the world and take the time to appreciate each moment.
THE MR BEELZEBUTH PROJECTS
Because it is important for us to share this love of the sea… We have created our association Beelzebuth Animation in order to offer you co-navigation outings which also allow us to bring the boat to life.
Beelzebuth Animation is an association of sea enthusiasts always seeking to get to know it better by sailing. We have learned to love it for the moments of happiness it gives us, but also to respect it so that we can enjoy the marvels it offers us for a long time and still admire the earth with the eyes of the sea for a long time.
The principle ?
Make you live an incredible adventure aboard a prestigious sailboat by sharing the time of a day a sea trip with us!
If you have ever dreamed of sailing on a prestigious sailboat, in the middle of a small paradise, then we can help you realize this dream.
Richard will introduce you to the techniques and pleasures of sailing if you wish and Mercedes will be able to offer you quality dishes with multiple colors and refined tastes.
« Admire the land with the eyes of the sea. »
MR BEELZEBUTH, TECHNICAL CHARACTERISTICS
Construction of the boat
Shipyard : Construction Navale Bordeaux
Yacht designer : Philippe Briand
Interior Design : Hugon Couëdel Design
Yacht
Lenght : 18,60 m / 61'
Beam : 5,18 m / 17'
Draft : 2,95 m / 9'8″
Water capacity : 1 000 litres / 264 US gal
Fuel capacity : 930 litres / 246 US gal
Indoor / outdoor equipment
3 cabins with 3 private wash cabins
Reversible climate control
Ice maker, full kitchen with oven
Desalination, generator
Outdoor fridge
Outdoor shower with hot water
Sun bathing
Leisure equipment
Dingui with motor
2 paddles board
Masks and snorkels
Float tube
Fishing rod