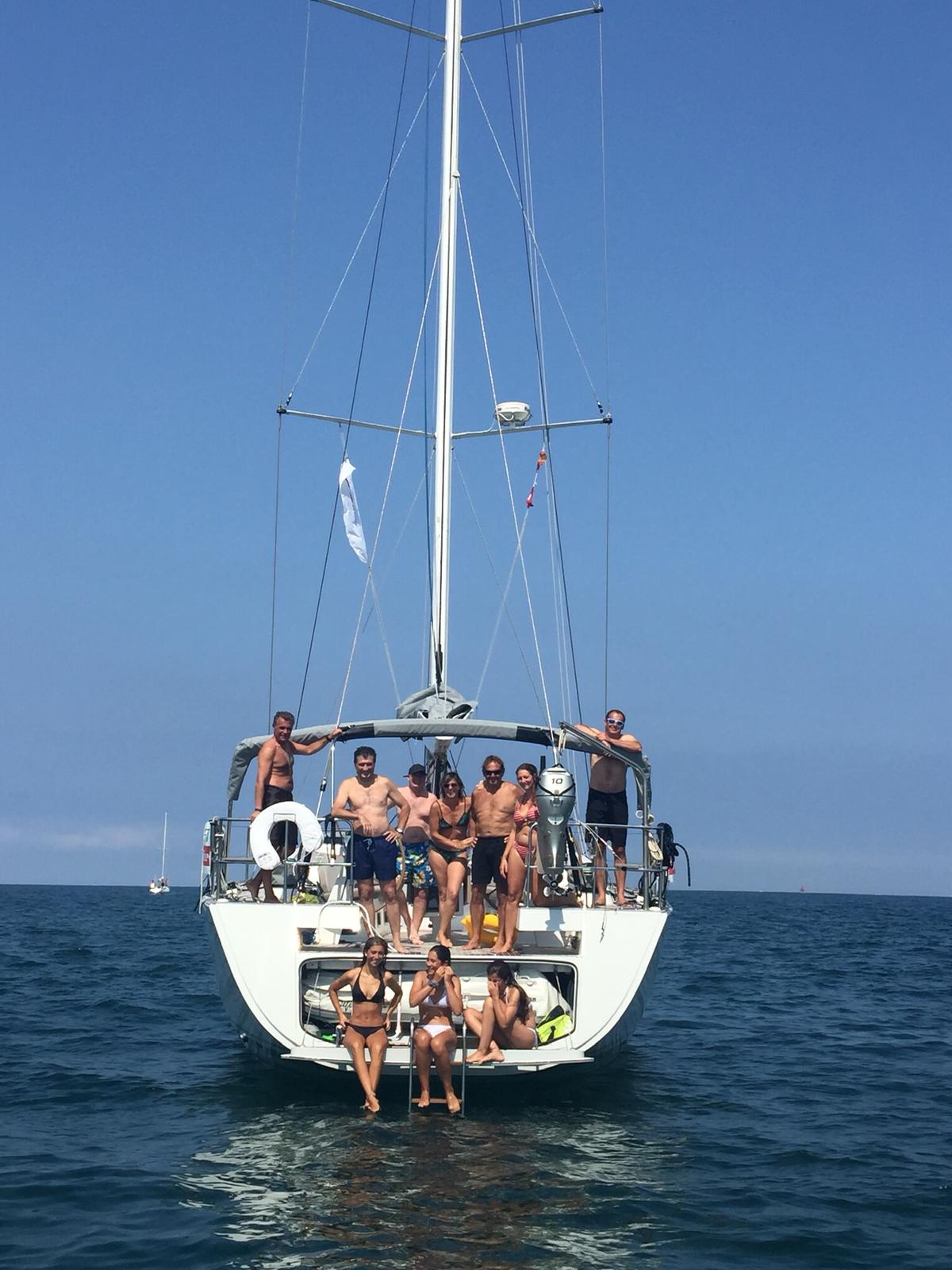 LIVE A UNIQUE EXPERIENCE ON BOARD A PRESTIGE SAILING BOAT
Mercedes and Richard welcome you on their exceptional yacht: MR Beelzebuth!
Get on board with them and become a full member of the crew for a day.
You can actively participating or simply enjoying, discover places accessible only by sea, enjoy magnificent sunsets or an exceptional dinner with your partner or friends!
No special knowledge is required, only good humor and a taste for sharing!
---
(1) Provide for a supplement in the total price.
(2) Let us know if you need a specific meal (food allergy).
Vegetarian friends / vegans, you are welcome.
FREQUENTLY ASKED QUESTIONS & PRACTICAL INFORMATION
FREQUENTLY ASKED QUESTIONS & PRACTICAL INFORMATION
How to join us on D-Day?
We will contact you in the days preceding your crusing and will indicate the address of our mooring place. We'll be waiting for you outside the pier at the time of our appointment.
With which accessories and equipment to come?
For all programs, simply have sneakers (preferably with clear soles) and a jacket and/or windproof.
For all day cruising, don't forget to take a bathing suit and towel, sunscreen, cap or hat.
No equipment is to be provided! We put at your disposal all the necessary sports and outdoor equipment:
Sunbathing
Bathing beach
Hammock
2 paddle board
Snorkeling: masks, snorkels and fins
Dingui
Fishing rods
Etc
Is it possible to sleep on the boat?
For tailored experience, please contact us.
What are the payment methods?
20% of the payment is made by bank transfer and the balance 4 days before the sea trip (by bank transfer) or before taking off (in cash).
Cancellation and refund conditions
Any booking can be cancelled at least 7 days before it starts and refunded within 24 hours of purchase. Please contact us by email and/or phone to inform us.
Security on bord
The maximum capacity of the sailboat is 8 passengers.
The boat has complete equipment to navigate on the high seas: life jackets, distress rockets, radio, etc.
For safety reasons, only children 12 years and older are welcome on board.
WHERE ARE WE NOW?
Our AIS vessel tracking tells you where we are currently.
To find out
CLICK HERE
Are you interested in the Mr Beelzebuth adventure and want to know where we will be in the days that follow?
CONTACT US
NUMBER OF DAYS
SINCE DEPARTURE
968